HiNook is
desktop photo frame
, it shows your photos or favorite pictures on Windows desktop: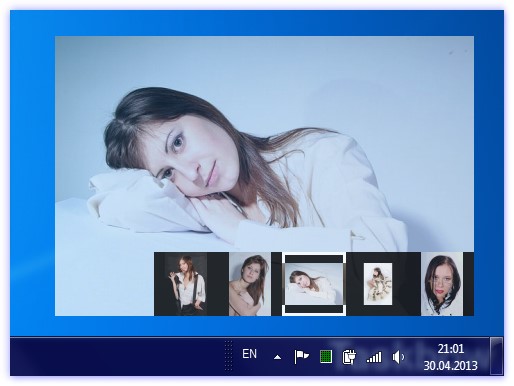 Of course, beauty of such program depends on beauty of your photos and pictures, but HiNook has some fine features too:
HiNook shows your photos over all windows, you will see them all time.
Slideshow window has two levels of opaque: for time, when mouse pointer inside it and when mouse pointer is outside.
When mouse pointer is inside slide window, mouse pointer does not "see" this window, so you can click all things that are placed under it.
When mouse pointer is over slideshow window, the window shows small frame with nearest photos, you can switch to them quickly.
HiNook can create albums - you can organize your photos.
And, of course, HiNook has one beautiful bonus, we hope you'll like. You never used wallpaper earlier? We too. It's time...
Version 1.2